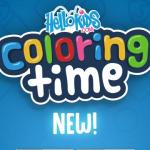 Hellokids Coloring Time
If your hobby is to draw, to create beautiful paintings and to showcase your creativity, it's time to try out an online coloring game called Hellokids Coloring Time. This is one of the new kid games at Friv5.me and kids of all ages can enjoy it for free in their free time. It doesn't matter which color you paint or how you mix the colors, you can always enhance and widen your imagination as well as the artistic skills with such a game.
The game comes with a large collection with various paintings. If you connect to some more platforms, you can even experience more cool pictures. First, choose your desired theme among the farm and the safari. With more than 80 animals in total, you can freely explore and improve the painting techniques. If you get bored with coloring only, how about creating a whole new painting?
This game provides a new feature at http://friv5.me/ which allows the players to create their own paintings from the available blocks or to draw a brand new one. All you need to do is to pick out the cute animals from the collection and arrange them to make a nice scenery painting. Drawing from scratch will be a challenge but it will guarantee to enhance your drawing skill as well. Games for kids like Ninja Painter and Kizi Trek are also updated to the website. Keep playing to explore the world!
Controls: draw and paint using the left mouse.
Rating: 3/5 (1 Total Ratings)
Free