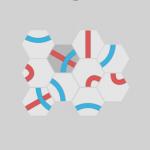 Knots
Puzzle games will be great choices for the players who love some little challenges and brainstorm during the relaxing time. Come and enjoy many levels in Knots puzzle game, which has gained so much attention from kids of all ages. Simple and bright, like childhood games, Knots from Friv5.me 2018 can bring you a different experience. With so many levels, you can play the game forever.
As long as you finish a lower level, you can progress to the next one. The main rule of the game is that you need to click those hexagons to exchange their position to put each back to its place. Make sure that the line in each block can connect to each other to create a perfect knot, hence the name of the game. Like some puzzle games such as Unpuzzle and Hexa Blocks, this game will demand your ability to think quickly and to combine the blocks precisely.
If you can't think of any move to make, keep in mind that you can always take advantage of the hints to help you out. But remember, the number of hints will be limited, so use them wisely. A tip for you is that you should imagine the shape of the knot first, then start working from one prominent piece. At http://friv5.me/, the games are updated every day so that the chances to play games are endless. Gather some friends and solve this knot puzzle to have fun now!
Instructions: Click on two pieces to exchange the position.
Rating: 0/5 (0 Total Ratings)
Free