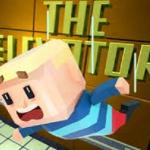 Kogama The Elevator
Another version has been added to the Kogama series. It's Kogama The Elevator new interactive game from Friv5.me online game. If you have been familiar with the gameplay of the series, you will find out that this is also a cool multiplayer game with more updates and a twist. In the other games, you explored the world of Kogama with different vehicles and defeated the enemies. This time, try out the new unique theme!
The prominent feature of the game consists of the elevator. You will take advantage of the elevator only to roam through the floors, check out all the laboratories to look for the flag. The elevator can go up and down all 13 floors, and each floor has a different scene. Keep in mind that you need to require all 5 stars to become the winner of the game at http://friv5.me/. The hard part of this new version is the number of real-time players on the same server.
Since there will be many other opponents, you need to use different skills and techniques to scramble the way through the crowd while still searching every nook and cranny for the flags and stars. It might seem a little bit crowded and hard to move at first, but after playing for a while, you will grasp the gameplay for sure. More games with pixelated graphics are available for free such as Pixel Gun Apocalypse 2 and Moorhuhn Pirates. How far will you be able to make it with Kogama?
Control: WASD to move, Space to jump, mouse to shoot
Rating: 4.7/5 (6 Total Ratings)
Free