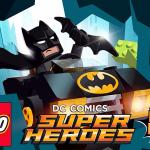 Lego Dc Mighty Micros
Welcome to Lego city. In Lego Dc Mighty Micros free game from Friv5.me land, you will have the chance to transform into various characters from this mysterious city. You will have to carry out the tasks of Robin, Batman, Bane and even Cat Woman and Captain Snow. The missions will vary, but we guarantee that you will have fun nonetheless. The main game is to drive the car to chase after the criminals who have just robbed the banks.
In order to get them, you will have to follow them closely while gathering all the scattered coins that they threw on the streets. Is this your first time driving a Lego car? If that's the case, you can drive at your speed at first and try to speed up later when you have mastered the movement. The roads will be slippery as well to make the game more interesting. Another tip for the new players is that you should also remember to avoid roadblocks.
You will experience multiple new vehicles in this game as well. The cars of the characters are all different with different equipment and features, so pay attention to control them properly. This game at http://friv5.me/ is one of the best racing game with a comic theme to satisfy the fans of Lego and comics. All in all, if you are a fan, don't miss out on this amazing game with 3D graphics and vibrant characters! Other games like Mini Race Rush and Drift Open World are also worth a shot. Let's play them all!
How to play: drive the car using the left and right arrows or the left mouse.
Rating: 4.8/5 (9 Total Ratings)
Free