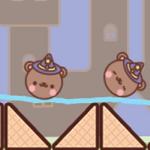 Love Bears
Spread the love in Love Bears with our adorable bears! The cutest game is here at friv world! The players will have to draw lines to bring the two love bears together. How can a line bring these two together? Well, when you create a curve or a unique line, the bears will fall down, hit the curves and roll back together. However, you need to make sure that your line is perfectly drawn.
This game comes with a tutorial on how to draw the lines. You can simply follow the dots on the first few levels and draw on your own on the higher levels. But keep in mind that the curvy lines need to be perfect. For example, if you draw a crescent with some bumpy spots, the bears will not be able to roll back together as they will get stuck on that exact spot. Don't worry as there are so many levels for you to practice and have fun!
Play all the levels in four different episodes, each with its own features and themes at http://friv5.me/! The prominent features of this game are the bright and vibrant decoration and graphics, as well as the lovely bears who are waiting to share the fun with you. Can you manage to collect all three stars on each level? It's ok if you can't gather all the stars, but the more the better. The fun is endless with more games like Cut The Rope:Time Travel and 3 Pandas for free!
How to play: draw the line by dragging and releasing your mouse.
Rating: 0/5 (0 Total Ratings)
Free