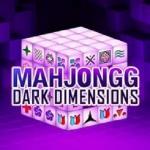 Mahjong Dark Dimensions
Mahjong is one of the most famous Chinese games online from Friv play 2019 and this time, how about an upgrade to make it even more interesting? The players will have to solve a mahjong puzzle from all the different dimension instead of one dimension. As a 3D game, different sides of the cube can be seen by rotating the mahjong pillar.
The players can eliminate them by clicking mahjong with the same pattern. Join the game and test how many levels you can pass and compete with the best players from all around the world! You need to click on two same tiles to match them. However, tiles that are blocked by the others on their left and right side can't be clicked on. Before you run out of time, you need to click as many pairs as possible. Since the game at http://friv5.me/ has a unique 3D design, you will have to rotate the screen to take a good look at the other sides. Like any other puzzle games, the main goal is to maximize the total scores.
The game will test your visual memory as there are many different patterns on the mahjong pieces. Keep exploring to see how many patterns are there! But all in all, a tip for you is that look closely at the pieces located at the corners first. These pieces will not be blocked by any others and they are easier to match. Use your intelligence and win the game now! Various choices that you can try out are Match 3 Hidden Treasure Hunt and Fruita Swipe.
Controls: Click the arrows, swipe or use the arrow keys to rotate the puzzles.
Rating: 2.3/5 (3 Total Ratings)
Free