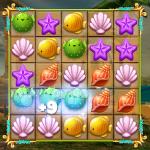 Match 3: Hidden Treasure Hunt
Match 3: Hidden Treasure Hunt is a smartly designed match 3 puzzle game which is playable friv the game. You get to adventure through a lost world whilst completing tricky puzzles. This is a match-three puzzle game meaning that you need to find three of the same items and link them together to remove from the game, which in return gives you points towards your high score. Are you ready for Adventure?
Explorer Lauren is leading an expedition to a Mysterious Island and you've been recruited to join her! Help solve the island's puzzles and discover hidden treasures! Follow the path through 4 different worlds and become the greatest explorer!
Pass through all levels where every single one is a challenge. Assist Treasure Hunter Lauren, who has asked you for assistance on her travels. Gradually explore the entire island together, and at the end you will find a mythical treasure. The game is very entertaining and addictive. Join four or five identical objects and get special enhancements to help you along this adventure. Have fun!
We keep updating other match-3 games in your favorite theme like Cookie Jam and Fruit Swipe. Each game is shared at http://friv5.me/. Please invite your friends to join their favorite games on our website right now. You have the new journey to explore.
Controls
Drag left mouse button to move a piece.
Rating: 4.6/5 (7 Total Ratings)
Free