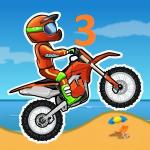 Moto X3M 3
Moto X3M 3, the game, play it for free and online on Friv 5 and discover many other amazing racing game we have picked for you.
Who is a fan of racing motorcycle games? Raise your hand! Because I suggest that you absolutely shouldn't miss the chance to play Moto X3M 3 – an awesome racing game of all time. With Moto X3M 3, all you need is to drive your motorcycle as far as possible, overcome dangerous obstacles and conquer 20 exciting levels in the game. Especially, another important task for you is to keep the balance of your motorcycle by controlling two buttons wisely (leftwards and rightwards arrow). Be more careful with deadly traps and avoid being destroyed by challenges on the race track. Are you a talented racer? Prove to the world that you are the best racer in Moto X3M 3 right now. Good luck!
How to play?
Use arrow keys to drive and keep the balance of your motorcycle.
Rating: 4.7/5 (12 Total Ratings)
Free