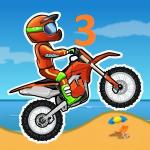 Moto X3M 3
Moto X3M 3 is really is an attractive and addictive racing game for all ages at http://friv5.me/ Are you ready to challenge your racing skills in the craziest race track?
The time is started! In this exciting racing game, all you need is to control your motorcycle wisely, overcome all dangerous obstacles on a beautiful coast and complete each level in the shortest time. Keep your mind to observe carefully and avoid being destroyed by deadly traps on the way. One more thing, try your best to keep the balance of your motorcycle during the race. It sounds very interesting, right???
Don't hesitate anymore! Click here now at Friv 5
If you want to play more with some similar racing games, 2039 Rider also will be a perfect choice for you at friv 5 online
How to play?
Use arrow keys to drive and keep the balance of your motorcycle.
You can also try these related games, too: Moto X3M 2 on Friv5
Rating: 4.4/5 (128 Total Ratings)
Free