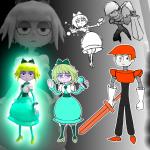 Nighty Knight
Welcome to Nighty Knight, a wacky yet incredibly fun action game from Friv game online. It's your chance to save the kingdom using the fighting skills during the most intense battle. Will you be able to survive against all the attack waves? The monsters are ruthless and dangerous. They come to attack the knight and princess in a large number. We need someone to take on the role of either the nighty knight or the strong princess and fight wave after wave without wavering.
Not any force can steal the kingdom from you and your partner! At first, the monsters will approach slowly and you get warning from the game at http://friv5.me/. Then, use your sword and move flexibly around the battlefield to swing the sword at the right monsters. Sometimes, you need to also utilize the skills in combat as the monsters get too close to you. But all in all, just be brave and pick up the weapon.
We guarantee that you will have fun with this amazing game thanks to the addictive theme and the beautiful characters. First, choose your character. Then, start joining any battle to hit the monsters! Pay attention to the bar on the top of the screen to keep track of your own progress. Also, the game allows you to see your score. Avoid being hit to save some more scores. Other games like Tequila Zombies and Battle Area also have the same genre for you to play!
Instructions: Control the character by using the mouse to move the button on the screen.
Rating: 4/5 (2 Total Ratings)
Free