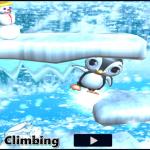 Penguin Climbing
Do you wanna build a snowman with Penguin Climbing? In this attractive game, Friv land gives you the chance to have fun despite the coldness. Everything will be warmer when you share the playtime with our adorable penguin! You will control a cute penguin and your job is to move and jump up all the slippery ice blocks. In order to arrive at the top safely, you have to try to avoid approaching the bear and snowball since these things may kill you.
However, you can protect yourself and kill the snowman by jumping on it. Yet, watch out and beware of the snowman with sleds because they may rush to you when you two in the same platform. These snowmen are the most aggressive characters with high capacity to push you down, therefore, be careful when you are near them. Also, in the icy world at http://friv5.me/, your score is recorded to use for ranking later. It's crucial to set high scores since the players from all over the world will keep breaking the old record.
Can you break some records as well? When you finish, check out the Rank section in the main menu to see where you stand! Jump high to get a higher score and have fun playing with the beautiful graphics and the immense playground full of snow! Plenty of other fun games like Little Samurai and Tomb Runner are also available today!
Controls: Use WASD or arrow keys to move the penguin.
Rating: 2/5 (1 Total Ratings)
Free