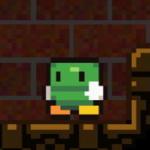 Run Away
Help the little monster to run away from the dungeon and escape from the scary monsters using your skills! The new game from Friv5.me action game, Run Away, is one of the best game with the pixel graphics. You will join and set off on a new adventure with a cute monster. Can you see him? He was trapped in this dangerous world, therefore, he needs someone to guide him through the obstacles and head back home.
There will be plenty of deadly obstacles on the platform which you need to overcome by avoiding them and jumping in the proper time. The movement of the monster is simple yet very addictive. All you have to do is to avoid falling down the holes filled with spikes, to jump over the barriers and the block. The ultimate goal is not only reaching the destination on each level but also to land on the ground safely and go to further.
How many scores will you be able to gain? The monster's life depends on you, so keep your focus and be patient. Various challenges and multiple levels are waiting for you to explore at http://friv5.me/ The best way to keep track of your progress using the energy bar on the top of the game screen. More adventures can be found with some games such as G-Switch and Gravity Guy. Continue on more journeys and share them with your friends! Don't give up and keep going.
How to play: move the monsters using the left and right arrow keys and jump using the Z key.
Rating: 5/5 (2 Total Ratings)
Free