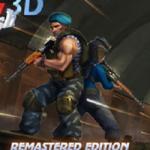 Subway Clash Remastered
Subway Clash Remastered is a fantastic 3D third-person shooter which has brand new settings and layouts. If you are a fan of the action based games, don't forget about this new Friv free game! This game works on all devices which makes it easier for the players to enjoy it. In the game, you will play the role of a marine leader! As you join the battle to fight for freedom, you need to guide your own team to defeat the others.
Scoring is team-based, therefore, in order to claim the victory, you have to maintain the best teamwork. There are two teams of blue and red on this map. As you start, you have to move quickly and use the available weapons to shoot down any possible targets. Don't hit your own team since it will decrease your capability and scores. The game from http://friv5.me/ features great 3D graphics and multiple weapons for you to explore.
Also, the dark settings with many different obstacles will make this third-person shooter game much more interesting! The location of the battle is in a subway in which you need to be smart to avoid crashing. Pay attention to the clock to keep track of the limited time as well. It's all about the teamwork in this game! Find more action games like Avengers Hydra Dash and Wasteland Shooters for free on our websites now!
How to play:
WASD - move
C - crouch
SPACE - jump
TAB - show score table
Rating: 4.1/5 (86 Total Ratings)
Free