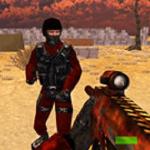 Wasteland Shooters
Only the best soldiers can survive the cruel and intense bloodbath in Wasteland Shooters. How can you manage to make it through this Friv game? Take advantage of your shooting skills and play wisely! In this game, you will be playing the role of a soldier who is involved in the war in the middle of a wasteland. Your team is here to search and locate all the enemies.
As the terrain is different, your team needs to pay attention because the enemies may be hidden around. Keep your self safe, locate the enemies and use your superior shooting skills to knock them down. The rules and gameplay are similar to those of others action games at http://friv5.me/ But this time, there will be a twist that you need to remember. This game is not only about great shooting and combat skills. It also emphasizes the amazing teamwork, which means that you need to work with the other players from your team to win faster.
Interact and communicate through the live chat box and you can coordinate better. Make new friends as you join different teams and sweep the charts with the highest scores. But bear in mind that you need to stay alive for as long as possible! Intense as the game might be, we guarantee the unavoidable fun time for each and every player for free. Moreover, you can check out some other games Battle Force and Counter Strike De Hiekka later.
How to play: Move the character using the arrow keys or WASD keys, aim and shoot using the left mouse, navigate by dragging the mouse cursor.
Rating: 4.5/5 (57 Total Ratings)
Free