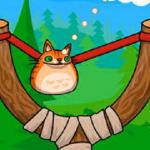 Angry Cat Shot
Ready, aim and shoot in Angry Cat Shot online game! You will be able to enjoy the brand new physics game for free at Friv online games! This game takes the inspiration from some of the most famous games like Angry Birds. Moreover, it consists of a ton of new challenges. The main goal of the game is to earn the highest scores by doing one activity only. It's to shoot with the Angry Cat!
The gameplay is also simple and stunning based on a combination of physics and shooting games. All you need to do is to launch the cat pass through the rings using your rubber gun. Make sure that you aim so as to collect stars. If you manage to gather all three stars, you will get the optimum score. For only 1 or 2 stars, you can still advance to the next levels yet with a lower score record. Keep in mind that there will be some dots to show the direction of the cat. Your ability to estimate will improve significantly after only a few levels.
At http://friv5.me/, the players love the little cat paw which is used as the mouse of the game as well. Would you like to check it out? Don't hesitate to test out with various directions and unlock new cool items! More games like Cut The Rope: Magic and Bubble Shooter are also great choices for you to share with friends and family. Let's play now!
How to play: Drag and release the mouse to shoot the cat.
Rating: 3.8/5 (13 Total Ratings)
Free