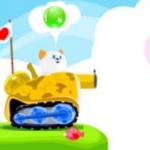 Kiss Cat
Can you get the adorable cat from Friv online games to kiss you? Earn lots of kisses by completing all the task with your perfect skills! This fun game will put your shooting skills to test! A limited number of shots are given to the players on each level. You can only use those shots to shoot down the obstacles. Use the canon to launch the birds in the right direction.
Despite the difficulty level, the main goal remains to get all the scattered blocks to explode. You can only do so using the bullets available at http://friv5.me/. Chose the priority of blocks carefully as the colors are different. Should you choose the blocks to shoot correctly, you can win soon. Check the bubble on top of the cat to see which color she likes and you can shoot more precisely.

The tasks will become harder and harder on higher levels due to the appearance of moving obstacles and different targets. However, the best players will be able to take advantage of each feature to earn more scores! It's fun to shoot and it's adorable to play with the cat. Also, you can show off different techniques and a creative strategy to overcome the hard mode. What are you waiting for? Let's experience one of the best shooting games ever! On the website, you can find other cool games to play as well like Flappy Bird and Color Road.
Controls: Drag the mouse to choose the direction and aim, Release to launch the birds.
Rating: 5/5 (1 Total Ratings)
Free