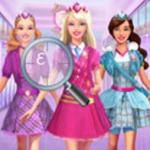 Barbie School Uniform Secret
Barbie School Uniform Secret is an online Kids game, it's playable on all smartphones or tablets, such as iPhone, iPad, Samsung and other Apple and android system.
Hey, girls, there are many secrets in barbie's school uniform, can you find them all? Enjoy your time with barbie!
Thousands of games with interesting content exclusively are for you to explore. Are you ready for your special opportunity today? Let's start with the journey of many other similar games like Little Dolls and Super Barbie Hidden Objects at http://friv5.me/. Will you have completed your game?
Rating: 3.7/5 (20 Total Ratings)
Free