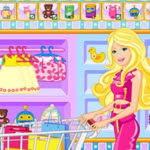 Mommy Barbie Go Shopping
At Friv land, a mom needs to do some shopping for her baby, could you help her? Since there are a lot of tasks need to be done, you have to accomplish each of them one by one. First, in order to get the money to buy items, you will have to help the mom to collect the coins. These coins are falling down from the sky at random places. As you move the basket left and right, the coins will fall into their right place.
Can you collect enough money so she could pay within the limited time? The limited time range makes the game at http://friv5.me/ much harder and more challenging, especially for the new players. When you get enough money, you can stop collecting and jump to the next step. It's time to go shopping together with mommy! The supermarket consists of many different items, but can you find the correct ones on mommy's list? The players need to look through all the racks to find the suitable items that the mother requires.
Only when you finish finding all the necessary objects will the game ends. Also, sometimes you can randomly pick the beautiful objects to add to the baskets as well. It's up to you to fulfill this task! Shopping will always be a fun activity and it's incredibly fun to enjoy with Mommy Barbie Go Shopping free game. If you love to play girl games, don't miss out on the other choices like Couple Valentine Date and Frenzy Airport.
Controls: Move the basket and choose the items using the mouse.
Rating: 4.1/5 (8 Total Ratings)
Free