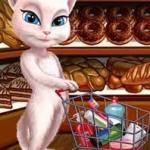 Talking Angela Great Shopping
Angela is one of the cute characters from the Talking game series at Friv school games. Kids from all over the world have fallen in love with the beautiful Angela and you should try out the game as well! Today, your job is to help Angela to prepare for the setup and greet her guest. Talking Angela is very busy today due to the tasks. She needs to clean the house and prepare the dinner at the same time. Can you help her out?
Start with the shopping and purchase all the necessary items and ingredients for cooking. The dinner will be a feast, therefore, make sure that she goes shopping to buy all the things she required. The list is long and it includes many things like cleaning tools, meats, vegetables, fruits and so on. Keep check of the things that you have collected and continue to work your way until the end of the list. Not only will you get to interact with the adorable Angela but you can also test out your ability to manage the daily work.
In order to handle the tasks at http://friv5.me/, keep focus and follow the instruction. You will master it in no time! Thanks to you, our beloved Angela will have time to care for herself before the big dinner. If you enjoy this genre of games, don't hesitate to check out more with new choices like Little Farm Clicker and Frozen Rush. The games are updated daily, which allows you to experience fresh games every day!
How to play: choose the items and ingredients using the left mouse.
Rating: 3.7/5 (17 Total Ratings)
Free