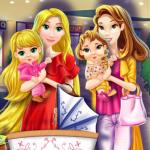 Mommy Princess Go Shopping
Play the hottest games at Friv5 right now! The online version of the popular android game Mommy Princess Go Shopping. Disney princesses Rapunzel and Belle became mothers, they go to the mall to buy something for themselves and their babies. There are lots of options, which one is fashion and suitable? Can you go shopping with them? Please help them make a decision, try everything and choose what looks best on them.
More fun and more experience with Beach Kiss at Friv now! Click!
Rating: 3.4/5 (10 Total Ratings)
Free