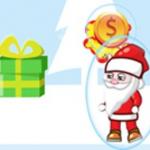 Christmas Danger Sense
Christmas Danger Sense is an online game that you can play on http://friv5.me/ for free.
At Christmas, Santa as always a lot of work, because you need to prepare for each gift. But how to do it. if this year it all went wrong, and now just the gifts falling from the sky, crashing from hitting the ground. That's right, you need to have time to catch them before they hit the surface of. This is what you are and will be engaged in the game Christmas Danger Sense, helping our Santa with a lot of boxes.
Only it should be done with extreme caution, because the falling boxes can wound our Santo and why you need to catch the pre-board, which will create a protective canopy around our hero. It operates 10 seconds and during this time you need to collect as many boxes, having to catch them before they hit the ground. After that you need to protect our Santo in the game Christmas: Feeling the danger, dodging falling boxes as long as the new will not be able to catch the defense bonus. Also in the game there is a shop where you will get every time after the game Christmas Danger Sense is completed.
There you will have the opportunity to do some shopping on the coins that you earn the collection boxes. You can purchase additional life or a protective shield, which will give additional time to collect boxes with gifts. Having made all the purchases you need to go back to collect the falling boxes in the game Christmas Danger Sense and try to prolong it more time.
This special moment requires a special ring designer, so let's play the game at friv 5. There are numerous games with this theme such as Santa Ski and Thebossgame 32
Rating: 3.5/5 (2 Total Ratings)
Free