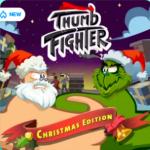 Thumb Fighter Christmas
Thumb Fighter Christmas will be a great game to play in the holiday season. Christmas is coming, we need to transform our cute fingers into the Christmas theme and start another cute thumb fight. After you have replaced the Christmas costumes, you are ready to start fighting in this Friv online game.
The game allows you to choose to play with your friends or fight against the computer. Whichever you choose, the game guarantees the immense fun! Like any other thumb game, your job is to defeat your opponent using the force and the flexibility of your little thumbs. It doesn't matter if you haven't played this game before. You can just follow the guide at http://friv5.me/ and start immediately. All you need to do is to choose the perfect timing and estimate the perfect force to push against the other player.
Your opponent will counter-attack at the same time so you need to be careful. The game ends when one of the energy bars runs out. Avoiding being attacked too many times and protecting your thumb are the keys to claim the title of the winner. Keep pushing and beating to win! If you choose to play with the CPU, the game will be a little harder. Trick the other player into attacking first, then you can make your move. Can you dominate this battle? Experience more fun game like Magic Tiles 3 and Tower Breaker 3 for free!
Controls: Player 1 uses A key and Player 2 uses L key to play the game.
Rating: 5/5 (2 Total Ratings)
Free