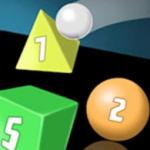 Crazy Balls
Crazy Balls is an online HTML5 game presented by friv 5, it's playable in browsers such as safari and chrome. You can play the game on smartphone and tablet (iPhone, iPad, Samsung, Android devices and Windows Phone).
Looking for dropping balls game, Crazy Balls will be a cool choice. Your mission is to clear the shapes which are climbing up slowly. Hold and drag to adjust the angle and then drop the ball as you wish. As the ball bounces among the shapes, their number will change. The shapes will disappear when their numbers turn into zero.
Other games that we recommend for players to relax in their free time such as Color Bump Online and Pack Master. You are ready to join this journey.
Have fun at http://friv5.me/.
Rating: 4/5 (2 Total Ratings)
Free