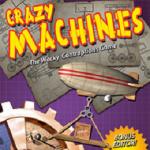 Crazy Machines
Building and fighting games are all the rage at Friv online games! Crazy Machines, a fun-addicting game about battling flying machines, has just been added to the collection for free so that you can train and improve your combat skills. Each player is given a single machine with its unique features and characteristic. Your job is to control it along with the powerful weapon attached to it.
Your playground will be a huge map in the sky. As you want to attack your enemies, the only way is to move your character so as to make the weapon spin. If you manage to make the weapon piece spin with enough force, you will be able to get close enough to hit the opponents with it. Keep in mind that the ultimate goal is to destroy as many enemies as possible. The more enemies you can defeat, the more coins you can earn to buy better weapons. Also, at the store at http://friv5.me/, you can explore and buy some of the best ships with the most powerful weapons.
The success in this game will not only depend on your equipment and vehicles but also in your skills to dominate the battlefield. For different kinds of attackers, you need to utilize different strategies which are suitable. Roll around the sky and clutch onto the enemies quickly! Will you be able to win with your own crazy machines? Take up more challenges with Kogama The Elevator and Gold Diggers Adventure
How to play: Use the mouse to control the machines.
Rating: 4.7/5 (3 Total Ratings)
Free