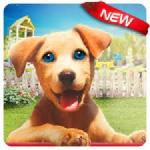 Dog Simulator 3D
Experience a day through the eyes of a man's best friend in Dog Simulator 3D free game! It's one of Friv5.me best combinations of a survival game and an animal game. Therefore, you will interact with the cute little dog and explore the danger in the wilderness as well. Living a day as a little stray dog running free on a field full of other friendly animals will be fun since you can play with the other animals such as cows, frogs or even humans.
When you initiate a new interaction with characters, there will be new missions for you to carry out. Keep in mind that you should also help the dog build a family with another dog of the opposite gender and start thinking about collecting some food for your puppy as well. In the wilderness at http://friv5.me/, always be careful with the dangerous animals that may want to hurt you.
Even as a pet, surviving in this cool Dog Simulator 3D game is not easy! The map in this kind of game is huge and in 3D to make sure that the player's experience is optimized. Moreover, the transition and the moving frames are very smooth to satisfy even the toughest players. More games like this such as Oceanar.io and My Frog.io are available online for free. Should we check them out?
Instructions: Use the WASD keys to move, Mouse to attack, Space to jump, Shift to sprint.
Rating: 3.7/5 (7 Total Ratings)
Free