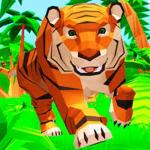 Tiger Simulator 3d
Tiger Simulator 3d is an Other game on friv5. You can play Tiger Simulator 3d in your browser for free.
Tiger Simulator 3D is another fantastic simulation game brought to you by CyberGoldfinch. Tigers are truly magnificent and beautiful animals and you now get the chance to see what it is like to live as these regal animals in the wild. You take control of a single tiger and must prowl through the wild and try to survive and grow strong.
You must hunt for food and catch your prey to provide yourself with sustenance and energy – don't forget to drink water too. Throughout the world map you can complete various tasks for other animals and characters to earn gold – you can use this gold to increase the stats and power level of your tiger. You can also find a tiger mate and raise your very own tiger family! See what it's like to live in the wild today and start your tiger adventure!
Control
WASD or arrow keys to move the tiger
Left mouse button to attack
Space bar to jump
Shift to run
Rate us highly and share the game with your friends to see who is the richest farmer in the world! Don't forget to explore more interesting games such as family-barn & Zoo Robot: Elephant at http://friv5.me/.
Rating: 4.1/5 (23 Total Ratings)
Free