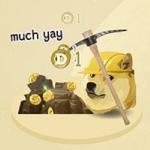 Doge Miner 2
Doge Miner is back in this fantastic second version – Doge Miner 2! This time, will you join the adventure to collect the gold from the Moon? The dog wants to purchase a spaceship and blast off to the moon, however, it will cost 50,000 Dogecoins. You will take the role of a professional miner and tell him how to get this goal. There is an increasing amount of tools, upgrades, and options at your disposal in this game at http://friv5.me/.
The fun mechanisms and gameplay of the original still remain in this one, but the creators add extras features to optimize the players' experience. Collect additional coins that drop randomly around the mining location to gain the money that you need. Also, don't forget about the Dogebags that contain different items. You can find inside the bags some improved pickaxes and bronze coins. When you have the money, continue to expand the business by hiring the Shiba workers and the little kittens.
At Friv games 2018, these animals will help you do your bidding and improve your rate of mining. Not only can you buy the tools for the Doge but you can also purchase extra updates for your employees as well! This is the coolest feature that has been added to the game. Let's get mining and reach the Moon with our lovely Doge! Would you like to play more with some games like Miner Block and Unfreeze Me 2?
How to play: Choose the items, mine and interact with the characters using your left mouse.
Rating: 5/5 (11 Total Ratings)
Free