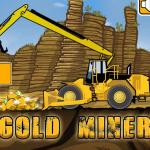 The Gold Miner
Welcome to the land of gold! Tons of gold and diamonds are lying underground. Hurry up! Jump into The Gold Miner at Friv5 now! In this game, your simple mission is to collect all gold and precious diamonds underground and complete each level before the time runs out. Be more careful to avoid touching bombs and earn points as the request in each level. With The Gold Miner, you will have many challenging levels to unlock and experience more wonderful feelings in the game. What are you waiting for? Click here!
Controls:
Use your left mouse to collect gold and diamonds or touch directly on the touch devices.
Gold miner vegas at also will be perfect choice for you. Play or regret?
Rating: 4.2/5 (12 Total Ratings)
Free