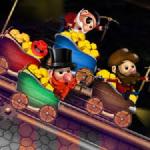 Gold Diggers Adventure
Hop on the cart and start the journey into the world of Gold Diggers Adventure now! This Friv free game is an interesting adventure game with the inspiration of the gold-digging classic game. Your job is to bring your cart which is full of gold and reach the destination on each level. In the game, the players need to drive the 4 wheels cart through different gold mines and try to collect gold.
Not only do you have to navigate properly but you will need to jump through the holes and the gap at the perfect timing. If you fail to do so, the cart will fall down the holes. Moreover, if you can catch up with the other players, you can even steal some golds from them! You need to move closer to the other cart miners. Keep in mind that you can multiply your gold by having more carts attached.
On the road, you will find some gold scattered around. Collect and gather all of them to add the extra scores to your total scores at the end of the game. Don't forget to check the Leaderboard at http://friv5.me/ to see whether you can make it to the top or not. Pay attention to the road ahead to avoid jumping into any traps and strange objects as well. In order to accomplish all three worlds, the game will require your observation, great reflexes and the ability to react quickly under the intense situation in the mine. Don't hesitate to try more games like Minecraft Mega Parking and Band Of Heroes to have fun with your family and friends as well.
Controls: Click on the screen to jump.
Rating: 4/5 (3 Total Ratings)
Free