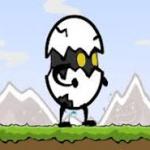 Eggys Big Adventure
Welcome to the world of Eggys Big Adventure! One day, there were suddenly so many dark eggs falling from the sky. They quickly contaminated the area and there is no way of stopping them. Only you, a special egg with legs can succeed with this mission from Friv5.me free game!
By collecting the good eggs, you will be able to form a good team and also unlock new areas. The best method to win is to take risks in this magical world! At first, you are just a small egg with legs. However, be brave and use your power to smash through the levels and collect enough eggs to complete the mission. It's very important to find the shortest way to get to the door which leads to the next level. Also, jump carefully so as not to fall down the deep holes or get stuck in the spikes.
In the game at http://friv5.me/, there are various dangerous obstacles, therefore, not only do you need to utilize your wisdom but also your flexibility. Moreover, take advantage of some rotating clouds to hit back at the dark eggs and continue with your journey faster. In this game, you will also enjoy the bright and colorful graphics with tons of new characters after each level. Don't miss out on this chance and try out some more games such as Hop Don't Stop and Another Planet 2. Will you be able to succeed and climb to the highest level?
Controls: Use WASD or arrow keys to move to the left and right
Rating: 5/5 (1 Total Ratings)
Free