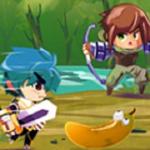 Hero Tales
Hero Tales is a fun running game for kids of all ages! Your love for running games will be satisfied with amazing graphics, new plotline and cool challenges in this Friv online game. The game has a cool boy as the main character and he wants to get rid of his enemies. On this journey to the unknown area, there will be more and more challenges and traps waiting for him.
The main character only possesses a limited number of hearts and shield power. As he is attacked, these number will decrease, therefore, be careful. Throughout the game at http://friv5.me/, it's crucial to keep in mind that each enemy you kill will drain your life. But after a few winning rounds, use the gained coins to buy more updates from the store. It's up to you to manage the balance between your life and your attacks, which means that you can come up with different strategies on your own.
For example, should you maximize your attack power, you will also have to protect yourself carefully to avoid dying. However, if you choose to maximize the heart points, your attacking power will decrease. Choose for yourself but be careful of the strong enemies. The more coins you earn, the more energy points you can buy. Moreover, the bananas can be helpful to regain life too so let's collect them! The journey and graphics of the game have gained the attention of so many players around the world. Let's play now for free! Other games from the same category are available and updated daily such as Jumpy Kangaroo and Amazon Adventures.
Instructions: Switch the lanes using the arrow keys and interact using the mouse cursor.
Rating: 2/5 (2 Total Ratings)
Free