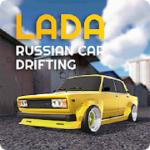 Lada Russian Car Drift
Lada Russian Car Drift is a new racing game that you should definitely check out! Not only is this an excellent car driving game from Friv free game but it is also one of the top choices for boys. It's a racing game in which your job is to show off your techniques. Will you be able to survive the Russian gangs with your car?
The game is divided into three maps, ranging from Hangar, Dock and the Garages. On each map, you can choose your favorite scene to start off your exciting adventure. The maps are big enough for you to steer a car to drive freely on a curve road and get a high score. Within a limited time range, you need to score combos and drift skillfully to gain the best scores. If you manage to drift many times, the scores will be great.
Moreover, the higher the speed, the better the achievement! Will you make it into the Leaderboard at http://friv5.me/? The game comes with a Russian theme and a dark vibe, along with the smooth graphics to satisfy the players. Keep check of the barometer on the left of the game screen to know how fast you are going. Driving careful is a good idea, but drifting fast is even better! Take up new challenges with some other racing games like Drift Cup Racing and Free Rally. Let's start driving in the Russian style now!
How to play: control the movement of the car using the arrow keys.
Rating: 4/5 (17 Total Ratings)
Free