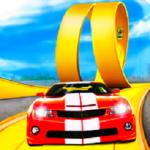 Stunt Car Driving Pro
Stunt Car Driving Pro is an awesome car driving simulator game which is playable friv Games for kids free. You can drive a number of different stunt cars with a grand total of 8 awesome models to choose from. There are also 3 large maps based in different locations to drive around.
Choose one of these cool sports cars and take it to a field full of paths designed exclusively for you to step on the gas pedal and defy gravity accelerating through ramps and loops like a professional stunt driver. There are no specific goals other than testing your skills behind the wheel. Enjoy!
Each of the maps contain ramps and jumps to utilize when trying to perform awesome stunts. Build your speed up and gain massive air whilst spinning and flipping your vehicle to hearts content. This is the best way to fill all of your adrenaline needs. Have fun!
You may want to try the following puzzle games Highway Squad and Lamborghini Drifter. Many other genres with a lot of interesting games are waiting for you, come and discover them with a few clicks at http://friv5.me/
Controls
use the WASD or arrows to drive
Space bar to use handbrake
Esc to enter pause menu
Rating: 4.4/5 (15 Total Ratings)
Free