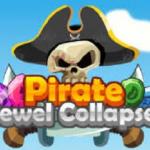 Pirate Jewel Collapse
Pirate Jewel Collapse is a whole new experience with the old matching game so that the players can enjoy more with Friv online games! This is a jewel-matching game which has a very simple rule. All you have to do is to help the pirate to bring home as many diamonds and rubies as possible. How can you do that? You will take on the tasks of collecting the jewels on the grid.
The jewels are placed randomly and in groups, so you only have to collapse groups of 3 or more jewels to get them. The more diamonds there are in the group, the more money you earn. Easy as it sounds, the best player should be the one who can minimalize the effort yet still gain so many diamonds at the same time. Will you be able to break all the previous records? At http://friv5.me/, you can have fun while admiring a large collection of jewels, diamonds, rubies and many more. Keep collecting these beautiful gems and you will be able to win this game!
Keep in mind that the gems will fill up the grid very quickly. If you can't collect fast enough, when the gems fill up to the top, the game is over. The only enemy that you have to defeat here is the time. Show us your reflex, quick reaction and amazing bags filled with the glamorous gems now! Why don't you call your friends to enjoy more games like Block Puzzle Plus and Cookie Crush 3? They are also fun and free!
Instructions: Click on the group of gems to collect them.
Rating: 4/5 (7 Total Ratings)
Free