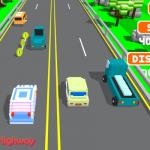 Pixel Highway
Any car driver can test out the driving skills on the most crowded road with the pixelated theme in Pixel Highway free game! This driving game has just been added to Friv online game so that you can refresh your experience. As a qualified car driver, do you have the confidence to drive your car and overcome all the obstacles as well as other cars on the road?
In order to win each round, you will need to avoid other cars from colliding while collecting more coins. The best way to complete this should be to switch between the lanes and gather the coins in this process. Not only will you enjoy the fun drive with adorable graphics and design but you can also improve the controlling skills to use during the traffic jam. Your driving ability will undoubtedly lead you to become the best one if you manage to avoid crashing and flipping. If you are a beginner, starting off with One lane mode will be a great idea. However, after you have progressed in the game at http://friv5.me/, you can take up the new challenge in Two-lane Mode as well.
Whichever you choose, the simple yet addictive gameplay will bring the fun moments to your playtime. Coins that you gathered will be shown on the top of the screen to keep track of the record. The more coins you gathered, the more upgrade items you can purchase from the store. If this is your favorite type of games, don't hesitate to check out some more like Highway Squad and Warzone Online
Instructions: Switch back and forth between the lanes using the arrow keys.
Rating: 3.6/5 (30 Total Ratings)
Free