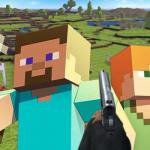 Pixel Warrior 2
Choose between the two modes of Army Camp and Death Match and start playing as the Pixel Warrior! Welcome to the world which is filled with the pixel warriors! After the world has been taken over by the zombies, you, as a zombie shooter, will bear the responsibility of saving the planet. With amazing 3D graphics and latest challenges, this game from Friv online games will undoubtedly bring you the most thrilling experience for a pixel-themed game.
The game is divided into two modes so the players can choose their favorite. However, the gameplay and rules remain the same. The players have to roam around the map, collect the scattered weapons and bullets on the ground to shoot at the others. Hide when it's necessary in order to avoid being shot at. You can take advantage of many different weapons to switch back and forth and use them when it's time. The game has a feature to keep track of your energy and bullets during the game.
As you move around the map, don't overlook the boxes, tanks and some other items since there might be extra coins or weapons hidden inside. At http://friv5.me/, the best players' names will be on the Leaderboard and it will change after every match. Can you make it on the top of the board and claim the title of the winner? Show us the amazing aiming and shooting skills now! More games from the same category that you might love are Super M Crossover 3 and Zombie Harvester Rush.
How to play: Move the character using the arrow keys, Shoot and navigate using the mouse cursor.
Rating: 4/5 (21 Total Ratings)
Free