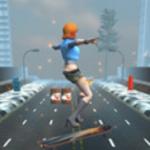 Skater Girl
Who says that only boy can skate? With Skater Girl, a 3D adventure game from Friv new games, even the girls can enjoy the virtual version of a skating game. Take the role of Laura as the main character and turn the street upside down with your skills!
Your goal is to control your skateboard girl to move freely on the street and perform many stunts. The tip to keep playing for a long time is by trying to keep the balance of the skateboard. On the one hand, as dangerous obstacles are scattered on the street, you should pay attention to steer clear of those things. Don't forget that another important task is to try to collect more gold coins. The coins can be used to purchase the extra protection for your knee and kneecaps, as well as buying some more beautiful skateboard.
The coolest skateboard will have an immensely high price, therefore you need to save up from the beginning of the game at http://friv5.me/. If you have confidence in your control, don't hesitate to show off a little bit and stand tall at the top of the Leaderboard. The game also has the incredible 3D graphics and cool setting with many different locations. Skateboarding online has never been this fun! Try out more games like Robin Moody and Train Raiders as well because these games are loved by many players.
How to play: Move through lanes and skate using the arrow keys.
Rating: 4.4/5 (14 Total Ratings)
Free