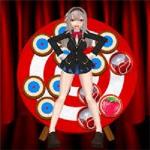 Hot Sexy Girl Darts
Dart is one of the most popular games for parties and holiday, especially if it involves cute girls. With Friv5.me free game: Hot Sexy Girl Darts, you will have the chance to join the best game to spice up the ordinary dart game with new characters. The rules remain unchanged, which is to hit the target on the big wheel to get the score. However, this game comes with better graphics, beautiful design and a plot twist.
The girl will move around the dart while you are playing. Try your best not to hit her, or your darts will be decreased until the game is over. There is a target bar on the right side of the game screen where you can check the progress and the scores. Whenever you reach a certain benchmark on the bar, you can choose some special actions to interact with the girl. Moreover, you can get the diamonds by hitting the highest score.
The main characters are ten hot sexy girls with different styles in the game. The only way that you can unlock them one by one is by using the earned diamonds. Also, try to hit the darts at the items pinned on the board to gain some extra bonuses. It's a unique game from http://friv5.me/ which has been played by players from all around the world. If you like this genre, don't hesitate to check out some other great choices such as Bartender: Perfect Mix and Barbie Beauty Bath. Show us your perfect aiming and precise actions!
Controls: choose and shoot the darts using the mouse.
Rating: 4.5/5 (4 Total Ratings)
Free