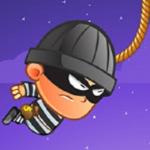 Swing Online
Use your amazing swing ability to move from one rooftop to another in this new Friv game: Swing! The famous robber is back and this time, he wants more! As a professional robber, his aim today is to rob the biggest bank in this city. Challenging as it is, this task will be fulfilled with your help. If you want some money, why don't you have fun with him?
He needs your help to cross this dangerous place so he can finish his tasks. As you touch or click, the rope will expand to the next rooftop. Depending on the time that you hold, the length of the rope will be different, which means that you need to estimate the perfect timing to stop holding the button. The goal is to land perfectly on the next rooftop without slipping off or falling down. It's game over if you fail to reach the next rooftop or fall down the high building. Keep swinging to gain the highest scores and write your name on the record board at http://friv5.me/
For some blocks, it will be harder to land properly due to the small space. With such a case, you need to utilize your utmost focus and estimation skills so as not to fall down. It's the kind of game that will challenge your technique and improve the skills. How many rooftops will you make it? Conquer this journey with the robber now! After this, why don't you have fun with other games like Gym Class Racers and Jumpy Kangaroo
Instructions: Click or tap on the screen and hold to swing the rope.
Rating: 3.9/5 (8 Total Ratings)
Free