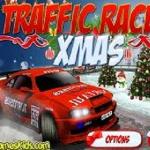 Traffic Racer Xmas
Traffic Racer Xmas will be the best games to show your driving skills and to enjoy the fun holiday spirit at the same time. It's one of the most popular racing games with a cool Christmas theme from Friv kid games. The best driver can not only race fast but he can also control the balance of the cars in various terrains and tracks. During Traffic Racer Xmas, all of your skills will be put to test.
The players can choose to drive their car on different roads and environments. Choose among many interesting modes such as New York, Florida, Alaska, and Texas. Each of the modes will come with its distinctive features and different challenges. For example, in the Florida mode, you have to be more careful since the road has two opposite lanes, which poses more threat to the drivers. But all in all, your task remains to become the first one to reach the destination.
At http://friv5.me/, the store is filled with special updates to maximize your car's capacity. Show off your driving skills and start taking adventures across this huge world! Don't crash or hit on any other cars because your score will be deducted significantly. Moreover, you can choose to challenge yourself a little more with the night and rainy version of the track. Will you be able to drive safely in such harsh conditions? Let's hop on your favorite car and race now with more games like Offroader V5 and 3D City Racer!
How to play: Control the car using the arrow keys or WASD keys. Interact with the items using the mouse cursor.
Rating: 4.3/5 (6 Total Ratings)
Free