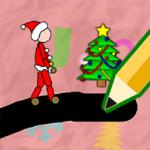 Xmas Draw
How good are your drawing skills? If you can draw using only the simple lines, Xmas Draws is the fun puzzle game which is perfect for you. It's a game which incorporates the theme of Christmas so that you can share with your friends and family this holiday season. Your job is to bypass all the levels. How can you do that? With this Friv kid game, you will have to draw the shortest line to help the main character to reach the destination.
The operation of the game is very simple, that is, draw lines so that characters can avoid dangerous obstacles. Moreover, he also wants to collect all the gifts and presents around the map. Before you start drawing, think carefully and take a look at the surrounding. Since your length will be recorded, you can check the number on the top of the game screen. This will help you know your progress in this game at http://friv5.me/
After you finish drawing the lines, the man can move along that line and also jumps up. All of these movements are controlled only by you! Join the game to test your drawing skills. The kids also fell in love with some other great games like Happy Glass and Love Bears.
Controls: Draw the lines using the mouse cursor, Move and Jump using the arrow keys.
Rating: 3.8/5 (4 Total Ratings)
Free